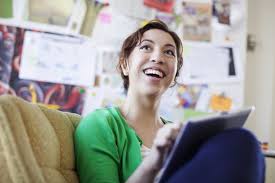 I was talking to a friend the other day who has a successful greetings card business. She creates lovely products and has recently expanded to include gifts for birthdays and special occasions. Business is going well but when I asked her about her level of repeat custom she struggled to answer.
Happy, loyal customers who come back time and again are at the heart of any successful business but if you don't know whether that's happening then you could be missing out. Keeping track of what your customers want and what they think about you will help you to create a really good customer experience and build brand loyalty and so increase the chance of those repeat orders.
It's often hard to make time for marketing and customer service issues when you are focussed on creating your product or service but I came across this useful checklist which really simplifies things. It asks you to imagine that you are a new customer to your own business and then asks you to answer these questions;
Who is the first person I interact with?
Does that person already have any information about me?
How does the interaction go – is it an enjoyable experience?
How long does it take from the initial contact to being able to start using the product or service?
How many different people do I interact with during the process – do I have to repeatedly give out the same pieces of information?
On point 5, I recently had to deal with a well-known Telecoms company and was forced to tell my complicated story over and over again to different people as they passed me from pillar to post. This seemed unnecessary to me as it could have been a far smoother experience!
In fact there is no excuse today not to have a system in place to help you keep your customers on board. A bad experience like mine means customers will look elsewhere.
Other common frustrations include the length of time it takes to get a response and not dealing well with complaints.
So once you've used the checklist and taken an honest look at how your customers are experiencing your business you will probably want to do something about the issues you find.
Most can be addressed by creating a more connected organization in which information flows and is readily accessible, so it sounds like a Customer Management Relationship (CRM) system could be the solution for you. There are many different versions on the market so take a look around and find a solution hat suits you – something that integrates with other problem busters is always a good option.
And even if everything is perfect right now remember that the personal touch may be the first thing to go when your customer numbers increase. It's lovely when you know each one of your customers individually but let's look forward to a time when there are more of them!
Thinking ahead and getting a good CRM system in place means that you are in a good position to maintain your high standards as your business grows.